At Devarati Jewellery by Design I create jewellery that captures Life, Celebrations, Beauty, Delight and Spirit. I Bless every piece to promote wellness, awareness and love.
Artist Statement
I am very inspired by the exploration of Spirit and Stillness and the energy and beauty of the Canadian landscape. The more I explore Stillness and Spirit, and Be out in nature, the more peace, joy, and alive I feel. My jewellery shares this experience of peace and aliveness and empowers people to explore more peace and awareness. What would you like to express with the jewellery you wear and gift?
Would you like your jewellery to be blessed and add intention? View list of intentions here

Would you like matching earrings? Would you like a chain or leather to go with your pendant?

Let me know when you order.
Our Story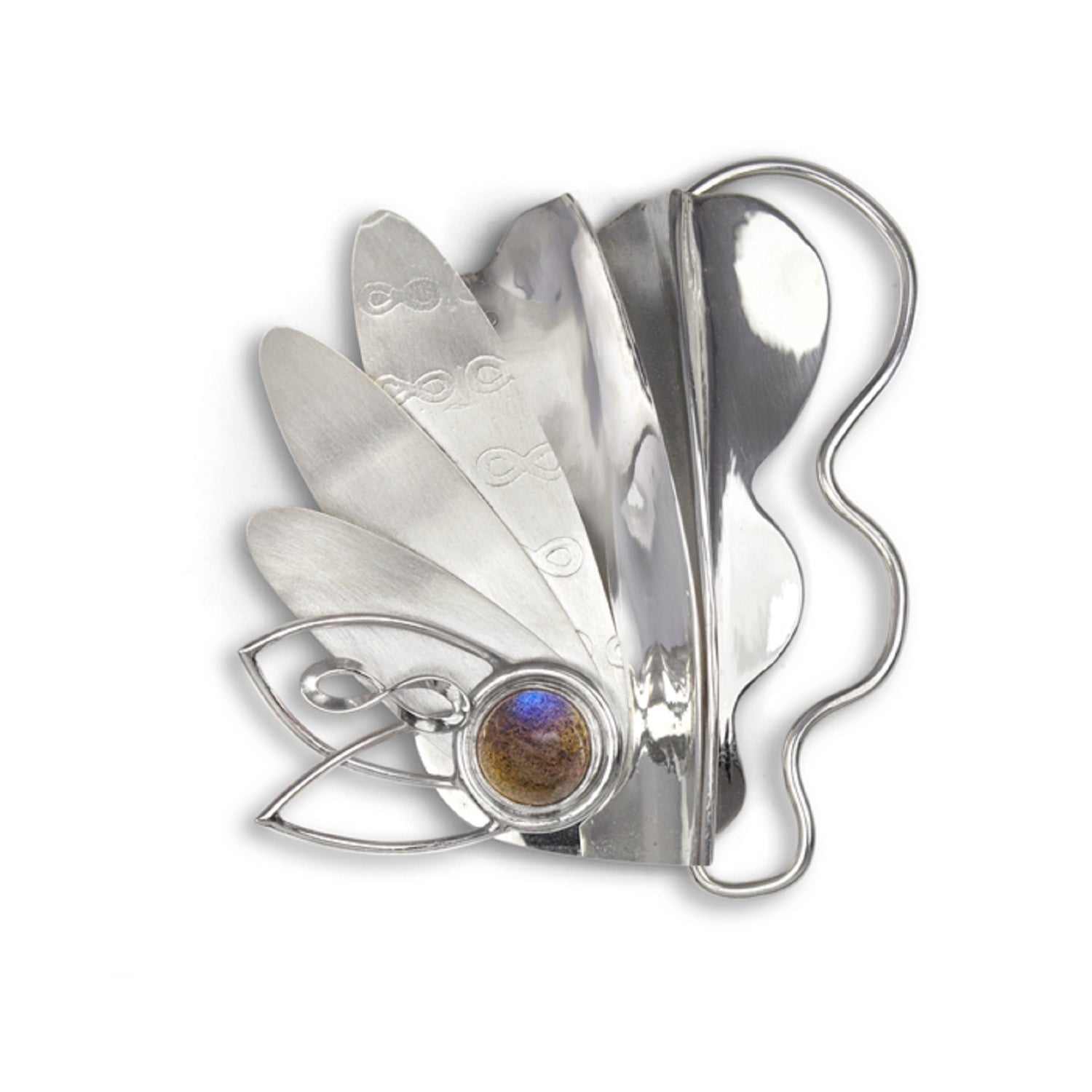 Spirit of the Canadian Landscape Collection
Sterling Silver Brooch and Necklace with Labradorite Gemstones. 
The Canadian landscape is used as the backdrop because a person's journey in the ruggedness and beauty of the Canadian Shield can assist them to discover the stillness and spirit within themselves and everything around them.
Is your journey one of discovery, letting go and being at peace and present to the moment?  If not, would you like it to be?
Would you like to co-create an adapted version of these pieces of jewellery?
Shop Now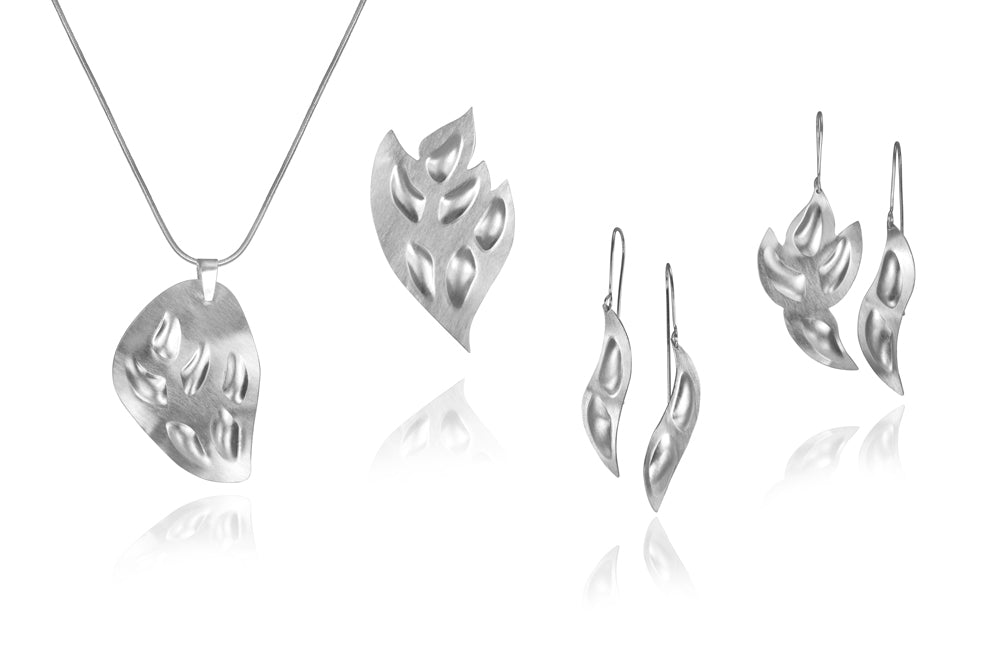 Northern Lights and Dancing Collection
The collection is inspired by the dance of the northern lights across the night sky and humanity's spiritual dance with "Self". The shapes represent a person dancing with the "One".
Shop Now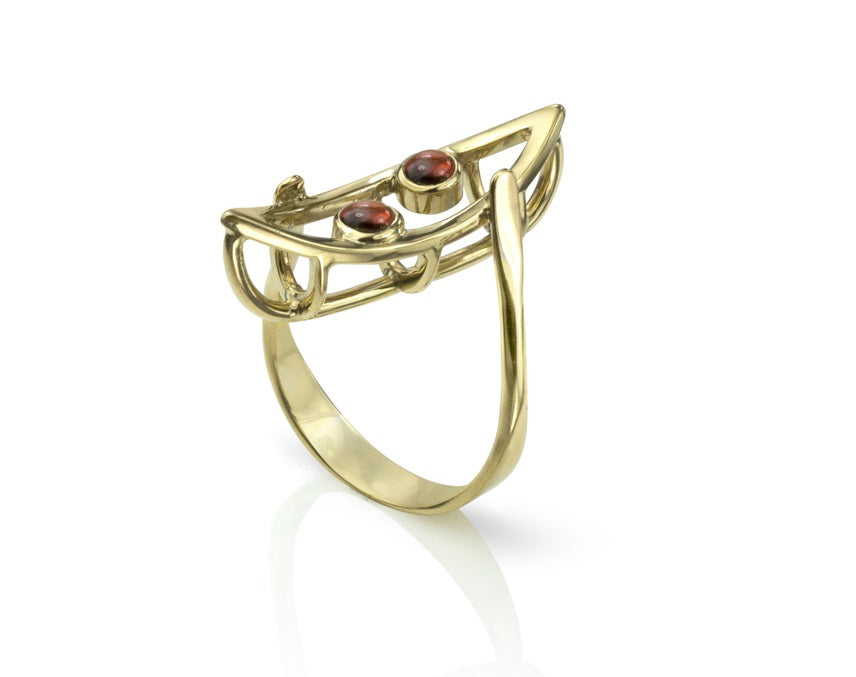 The Journey Collection
The Canoe in Motion ring is inspired by the canoe, a stereotypical symbol of Canada. As a traditional mode of transport that allowed for the opening up of Canada; the canoe represents a journey, harmony with nature, discovery, and courage.

The rest of the Journey collection was inspired by the Canoe in Motion ring and an expression of aliveness and nature.
Shop Now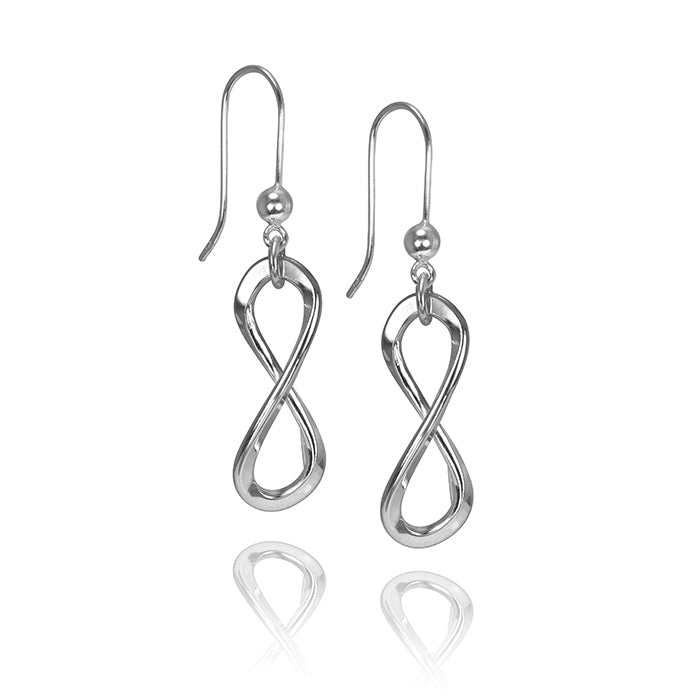 Infinity and Eye of God Collection
Would you like to be reminded that you are alive with endless possibilities?
That you can ... Be The Infinite
This collection is a great reminder to ... Be here Now
Shop Now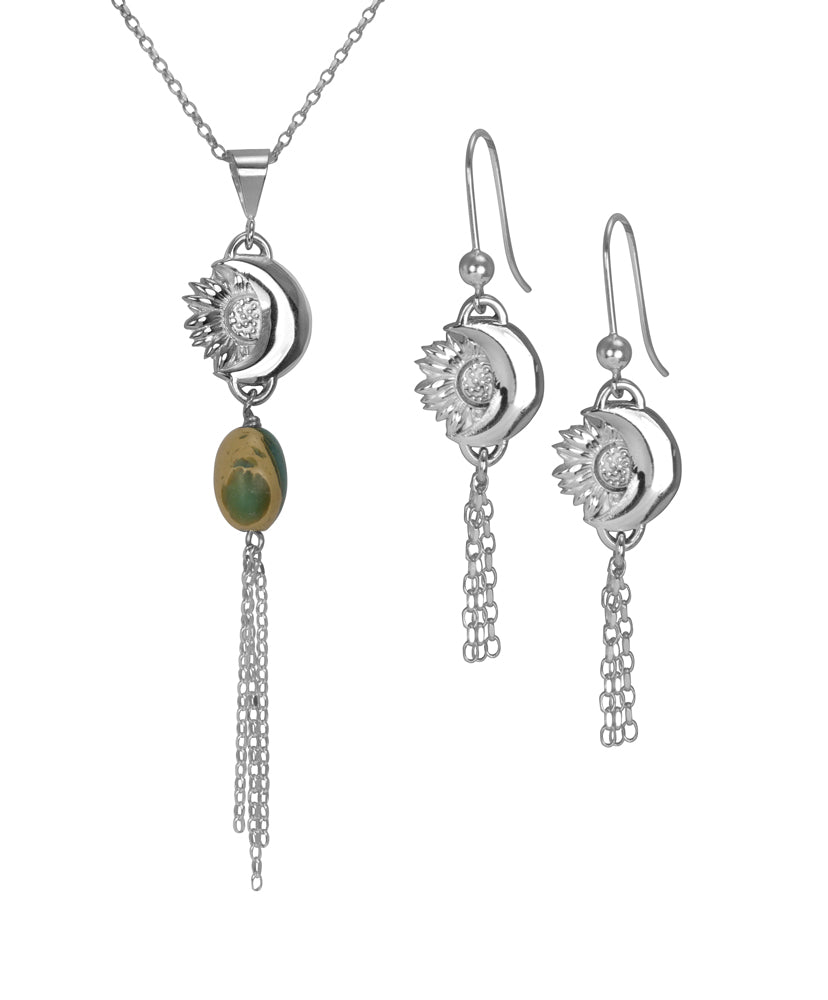 Equinox Collection
The Equinox is represented by the Sunflower and Moon. 

The Equinox collection is a Great reminder:
- Of new beginnings 
- Change and growth is possible
- You keep blossoming
- You are totally beautiful
Shop Now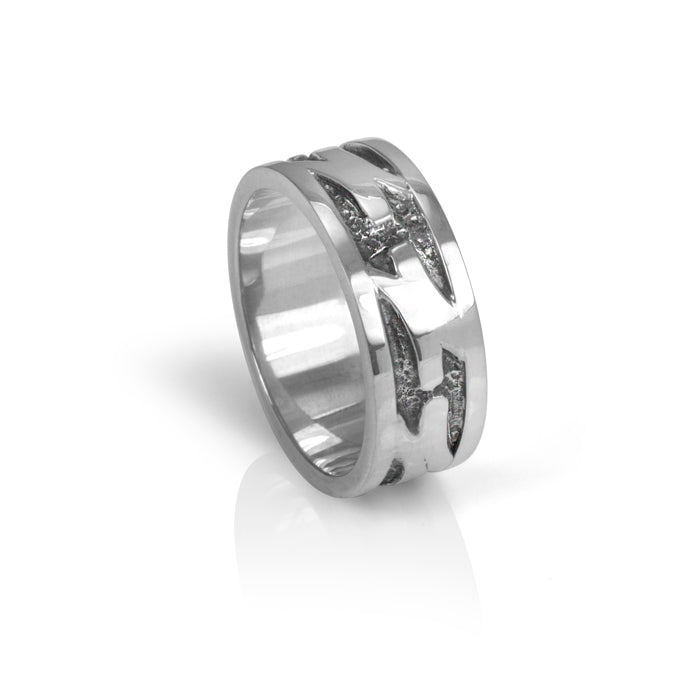 Together Collection
Represents coming together in relationships, in family, in team building, with oneself.
The pendants, earrings and bracelets are Great gift ideas for Mother's Day especially for a mother who loves to bring her family together. 
Shop Now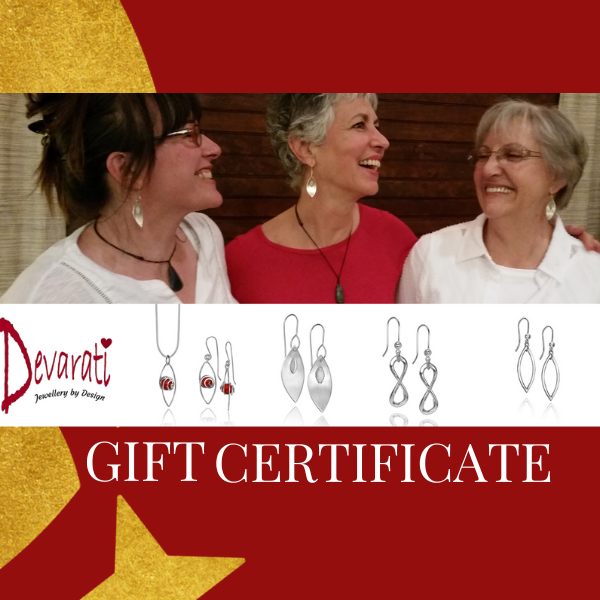 "For Someone Special" Gift Certificate
Give the gift of Jewellery and share your appreciation and love.  Please click on the buy now and you will be directed to the order form.
Buy Now
What Devarati Jewellery Customers Say
Karen Leslie

"My body literally got chills as soon as I opened the package with my necklace! The pieces of custom jewelry feel amazing to wear." 💙 Thank you Devarati

Heather Bryant

"I love the custom music pendant Devarati made for me. It's the perfect accent piece for when I perform and any occasion."


Alicia

"I just wanted to let you know how much I absolutely adore my ring! I couldn't wait for Adam to put it on, and since I've worn the two together, everyone that sees it is blown away by how unique, beautiful, and "me" the ring is. It couldn't be more perfect. Thank you so much!"

Anita

"Bought a pair of earrings  at your booth during the gem show. Best little gift I could buy for myself as I feel the positive and very strong energy that it contains. Thank you for the beauty and the love you  put in your work. I believe that thus you send goodness and happiness."🌹
Welcome!!
Thank you for joining me. I am excited that you are here. 

I hope you have fun exploring Devarati Jewellery by Designs. 

I delight in creating beautiful custom-designed jewellery to celebrate milestones, accomplishments and to assist the wearer to feel beautiful, present and alive.

Do you love my necklace and earrings?

Shop the Infinity and Eye of God jewellery.

For exclusive access and Gift Card, Join the Devarati Jewellery VIP.

Devarati, my spiritual name, means delight, joy and love of the Infinite. I bless my jewellery to bring this to you.

You can also request other intentions. See the about page for a list of suggestions that you can choose from. 


Will you join me in expressing your Journey and Love with jewellery that celebrates you and your loved ones?

Contact me and let's see what we can create together and what can we add to your Devarati Jewellery by Design wish list.

Big Hug  

Devarati Angela Sammon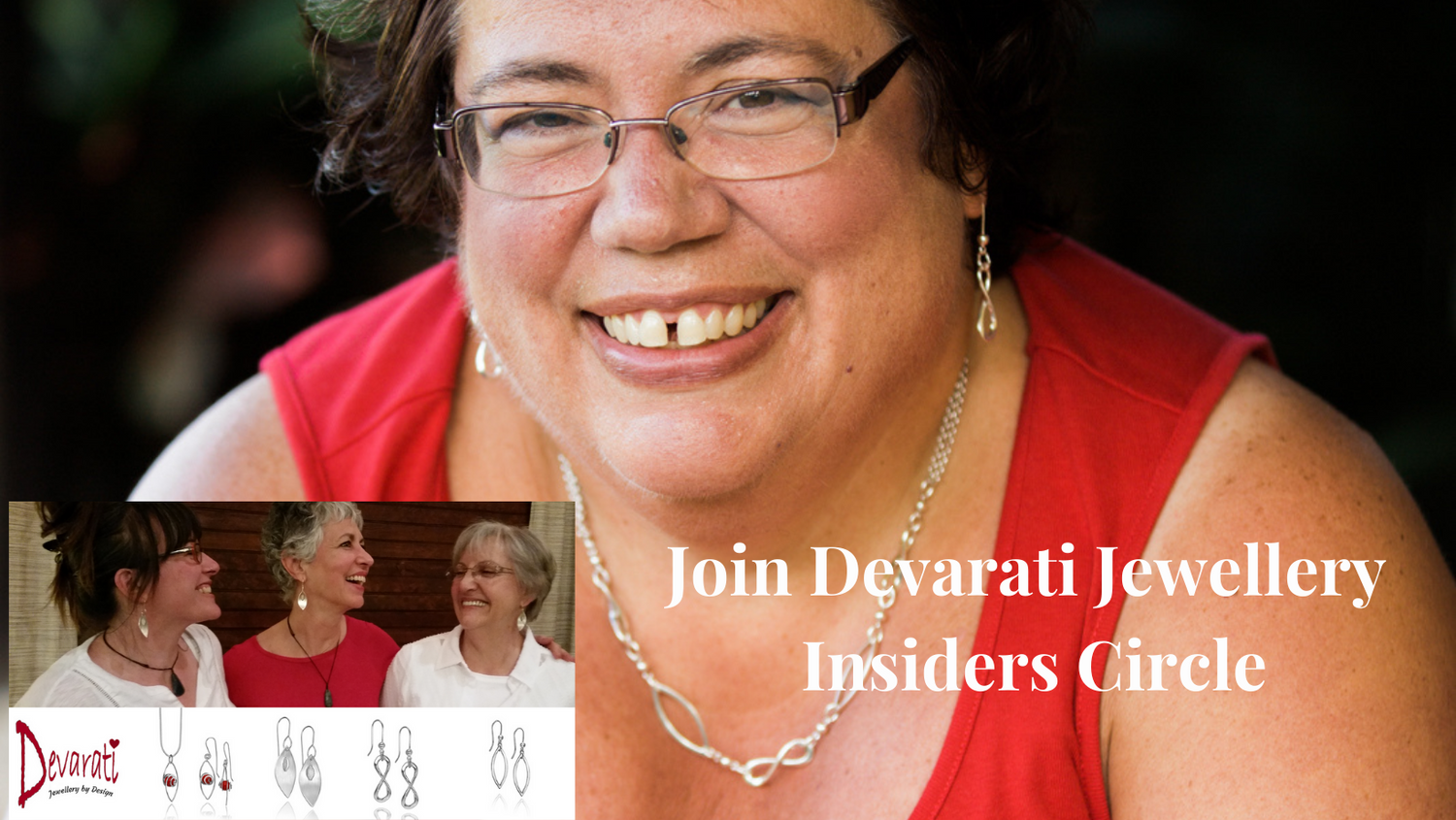 Join Devarati VIP Circle
Welcome to Devarati Jewellery by Design!
I am Devarati Angela Sammon and I am exited that you are here.
I hope you have fun exploring my designs that assist you to feel beautiful, joyful and peaceful.  They are a great expression of Love.